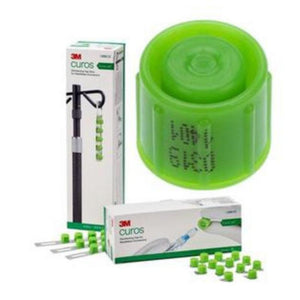 3M Curos Jet Disinfecting Cap for Needleless Connector, Strip of 5
3M™ Curos™ Jet™ Disinfecting cap is the next generation solution for needleless connector disinfection. Meeting the high efficacy standards of all Curos™ devices, it utilizes a spray of 70% isopropyl alcohol to disinfect all critical surfaces of needleless connectors. It locks onto luer access valves to disinfect in 1 minute; can be left in place to keep valves clean and protected for up to 7 days. It is packaged to hang from Intravenous pole for easy access, greater compliance, and reduced waste. In vitro testing shows effectiveness against the six microorganisms commonly associated with CLABSI: Staphylococcus aureus, Staphylococcus epidermidis, Escherichia coli, Pseudomonas aeruginosa, Candida glabrata, and Candida albicans.
Applications: Disinfect needleless connectors before line access in home or a healthcare facility.
- Twists on easily and stays securely in places
- High profile and easy to handle when wearing gloves
- Brightly colored to help verify and measure compliance
- 3 year shelf life
- Latex-free
- Disposable
- Strip of 5
Note: Do not use on open female luers
---